HOW TO KEEP YOUR CAR SHINY?
07/11/16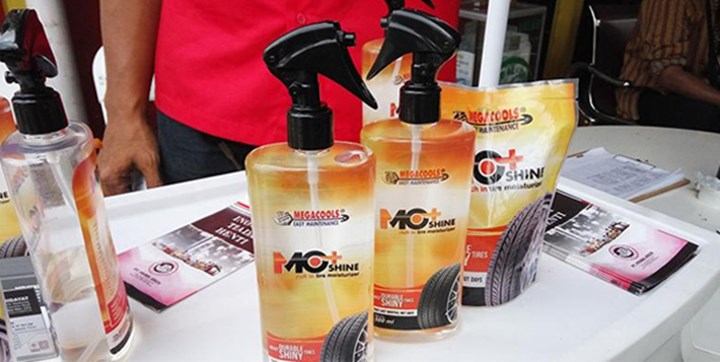 Jakarta, Otomania
During this tire polishing products feature the tire sparkling results without any effect on tire care. Because some materials in the polishing products can close pores and make the tire quickly tire brittle.
The latest products from Megacools, Mo + Shine, offers something different. This tire moisturizer product is claimed to provide ingredients to moisturize pores to prevent rapid tire rubber elasticity of the rubber brittle so awake. In addition as a softener, burnish function also exists with gloss tire awake for one week.
Hidayat, salespeople from PT Prima Jireh, brand holders Megacools, when met Otomania some time ago, revealed the use of this tire softener can not only be applied to the tire.
Fluid Mo + Shine can also be used on materials such as plastics and vynyl rearview mirror cover, vehicle dashboard and door trim to maintain softness and polish the parts of the car.
Currently the product Mo + Shine is only available in two packages namely 400 ml refillable packaging for Rp 40,000 and 500 ml spray bottle for Rp 80,000. Mo + Shine products can be ordered through the website Megacools or visit the Facebook page Megacools.