REMOVE THE WORD DIFFICULT
FROM YOUR VOCABULARY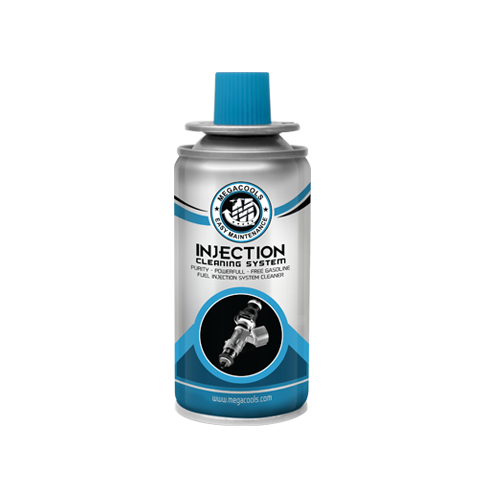 INJECTION CLEANING SYSTEM
PURITY - POWERFULL FREE GASOLINE FUEL INJECTION SYSTEM CLEANER
MEGACOOLS INJECTION CLEANING SYSTEM

Formulated with true purity without gasoline to clean the channels and injection-based needles evenly for the machine to be excellent.

Short and easy processing time using MEGACOOLS CLEANING TOOLS

(MCT)

Available in 100 ml packaging.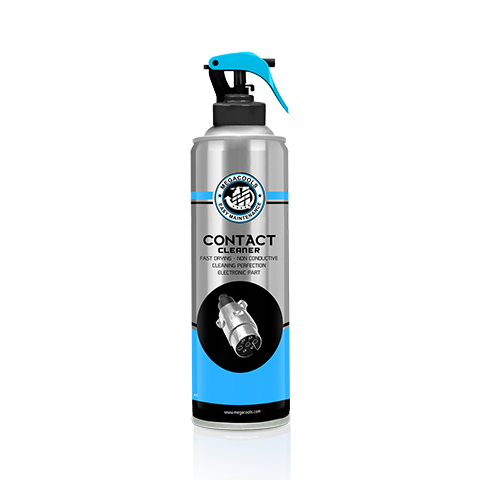 CONTACT CLEANER
FAST DRYING NON CONDUCTIVE CLEANING PERFECTION ELECTRONIC PART
Contact Cleaner Merupakan Cairan yang berfungsi untuk membersihkan komponen elektronik dari kotoran, minyak, gemuk, dan debu, bereaksi dengan cepat, tidak menghantarkan listrik, cepat mengering, tanpa meninggalkan residu. Aman digunakan pada permukaan Plastik, Fabric, Coating Painted, DLL.
_______
COCOK DIGUNAKAN UNTUK MEMBERSIHKAN
• Video head/drums
• Navigation & Telecommunication
equipment
• Counter
• Marine Electronics equipment
• Servo equipment
• PABX & Fax machine
• Transmitters & Receivers
• PC Card/modules-socket & plugs
• Micro-processors
• Micro relay contacts
• Elevator Controllers
• Calculators
• Sound equipment
• Laboratory & precision electronic
equipment
• Connectors
• Synchronisers
• Recorders
• Selsyns
• Solenoids
• Potentiometers
• Tape Heads. Tunes
• Jewel bearings
• Meter registers
• Oscilloscopes
• Karaoke equipment
• DLL
_____
• BEREAKSI DENGAN CEPAT • EFEKTIF DIGUNAKAN PADA KOMPONEN ELEKTRIK • PAPAN SIRKUIT • PCB DAN TOMBOL SWITCH •
______
CARA PAKAI : Kocok sebelum digunakan. Semprotkan dari
jarak 15 -20 cm pada bidang atau benda tang akan dibersihkan.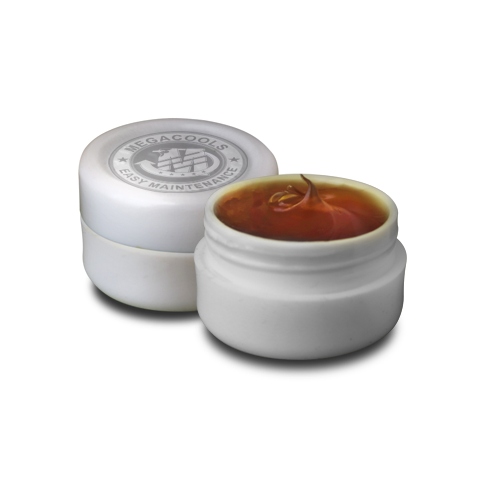 CVT GREASE
CVT GREASE
Specially formulated for minimize pulley friction under normal and extreme conditions. MEGACOOLS CVT GREASE is ready to keep your mechanics always in optimal performance!
SHOCK ABSORBER OIL
HYDRAULIC JACK OIL
MEGACOOLS SHOCK ABSORBER OIL is a special lubricant to be used for Shock Breaker 2-wheel vehicles and wheels 4. Has passed the quality test Dept. Lemigas with Registered Lubricant Number: BBM 002H1002210821 with API SL.
MEGACOOLS SHOCK ABSORBER OIL is a synthetic lubricant formulated suspension bike with a lube base oil (base oil) quality and specialty additives for use in a variety of road conditions. OIL SHOCK ABSORBER MEGACOOLS will ensure maximum protection against shocks and provide comfort in driving.
OIL SHOCK ABSORBER MEGACOOLS Giving driving comfort by minimizing noise from impact and withstand shocks from mild to harsh.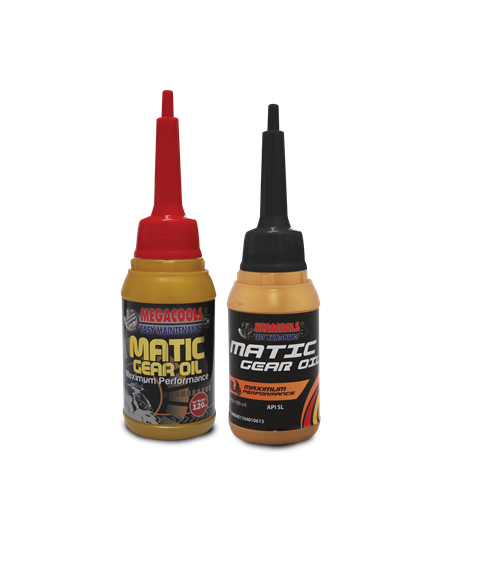 MATIC GEAR OIL
MAXIMUM PERFORMANCE
MATIC MEGACOOLS GEAR OIL Special lubricants are formulated with the perfect replacement for the use of transmission oil in the motor scooter matic. No fuel has a 003E1104010821. Replace regularly every turn of the engine oil in order to shift the transmission system is maintained.
By using advanced techniques teknnologi formulations that maintain stamina gear automatic motor passing though severe obstacles. Can be used in all brands and types of automatic motor with the distance of 3000 km.
AVAILABLE IN PACKAGING 100 ML AND 120 ML.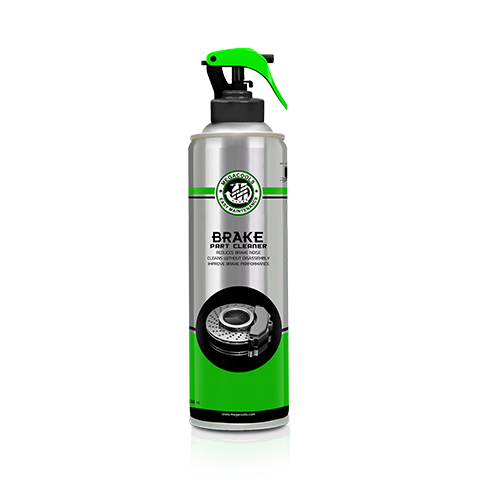 BRAKE PART CLEANER
REDUCE BRAKE NOISE | CLEAN WITOUT DISASSEMBLY | IMPROVE BRAKE PERFORMANCE
Diformulasikan untuk membersihkan permukaan disk brake tanpa harus dibongkar. Bekerja sangat cepat melarutkan dan membersihkan lapisan debu, rembesan minyak rem, oil film, tar, karet, dan kotoran yang menempel pada permukaan disk brake.

Membersihkan kotoran oli, gemuk, dan kotoran Iainnya yang menempel pada piringan rem beserta komponennya.
Dapat mengurangi debu asbes dengan daya bersih kuat. Efektif mengurangi bunyi rem yang berderit dan mengurangi getaran pada rem dengan pembersih kotoran pada permukaan objek yang bergesekan, dapat digunakan langsung pada permukaan yang bergerak, cepat kering dan tidak meninggalkan residu.

CARA PEMAKAIAN:
(1). Lepas roda kendaraan.
(2). Semprotkan pada disc brake sebelah kanan dan kiri secara merata hingga kotoran yang menempel pada disc brake menjadi bersih.
(3). Semprotkan juga pada cakram roda dan disc pad sehingga kotoran hilang.
(4). Diamkan beberapa saat agar disc brake, disc pad dan cakram kering dengan sendirinya.
(5). Pasang kembali roda kendaraan.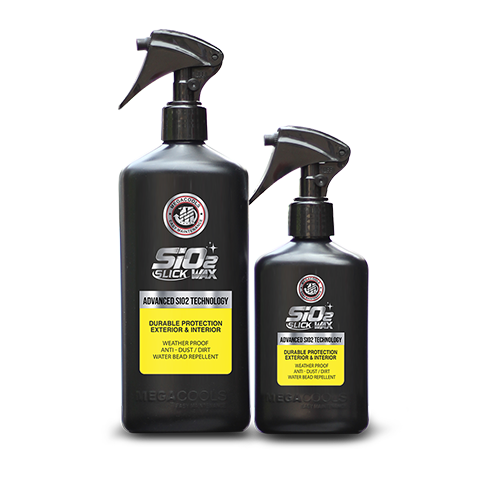 SiO2 SLICK WAX
Advance SiO2 Technology
MEGCOOLS SiO2 SLICK WAX dengan New Advance Technology diperkaya dengan SiO2 Silica dispersi sangat efektif melapisi serta melindungi dari goresan minor, tahan cuaca, dirt repellent dan tidak membekas sidik jari. Aman digunakan pada perangkat elektronik seperti, layar TV, laptop, Handphone, serta pada bahan seperti chrome, karet, plastik, kulit dan velg. CARA PAKAI :
• Bersihkan area bidang yang akan disemprot.
• Kocok sebelum digunakan.
• Semprotkan cairan pada bidang yang akan dipoles.
• Lap permukaan menggunakan kain microfiber dengan gerakan vertikal - horisontal atau gerakan memutar searah jarum jam sehingga tidak meninggalkan residu putih.
• Gunakan secara teratur agar kendaraan anda terawat setiap saat.
SHINE TIP : UNTUK HASIL MAKSIMAL DISARANKAN PENGULANGAN 2-3X LAPISAN.
PERHATIAN : (1) Hindari kontak langsung dengan mata. (2) Basuh tangan dengan air bersih setelah pemakaian. (3) Jauhkan dari jangkauan anak – anak. (4) Simpan di suhu ruang dan hindari dari pembekuan.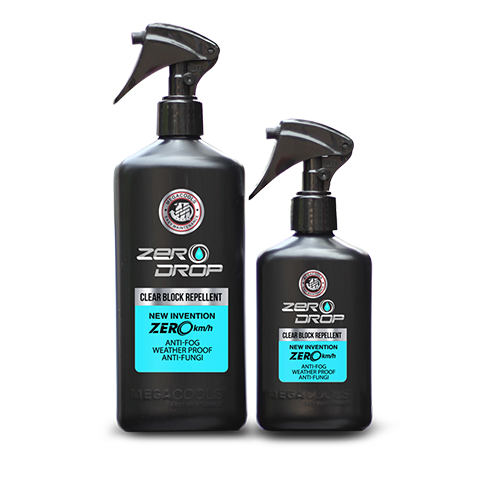 Megacools ZERO DROP
Clear Block Repellent
Megacools ZERO DROP Glass Repellent adalah Inovasi TERBARU dan CANGGIH mampu membuat BLOCK CLEAR 0 Km/jam tanpa hembusan angin. Air tidak akan menempel pada permukaan dan tidak mengganggu pandangan. Memiliki sifat anti embun, anti jamur dan anti debu. Sehingga kotoran tidak mudah
menempel.
EXTERIOR USED :
Kaca windshield, kaca samping, spion, head lamp, kaca helm, cermin kamar mandi dan kaca shower box.
PETUNJUK :
(1) Bersihkan dan keringkan permukaan kaca. (2) Kocok terlebih dahulu lalu semprot dan ratakan dengan kain lap. (3) Diamkan 3-5 menit sampai terlihat kabut tipis di permukaan. (4) Hapus dengan kain lap basah atau semprotkan dengan selang air. (5) Lap kering kembali dan hasil kaca akan terlihat bersih sebening kristal. (6) Lakukan proses pengulangan bilamana telah terkena hujan
beberapa hari berturut-turut.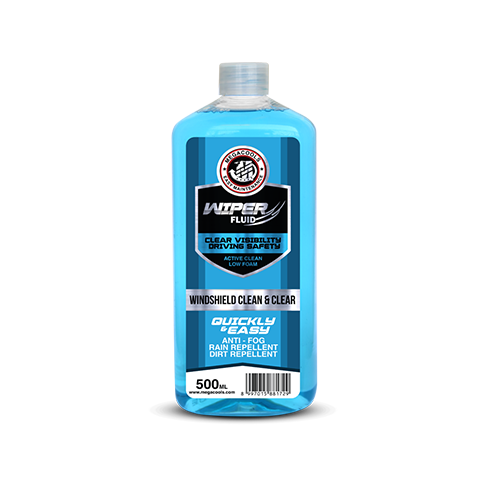 MEGACOOLS WIPER FLUID
CLEAR VISIBILITY DRIVING SAFETY
Megacools Wiper Fluid
____
Megacools Wiper Fluid diformulasikan khusus untuk membersihkan kaca windsheild dari endapan asap knalpot, debu, hujan acid, air hujan mudah mengalir sehingga pandangan bening dan jelas baik siang maupun malam hari.
_____
CAIRAN WIPER FLUID MEGACOOLS TIDAK MERUSAK KARET WIPER, KARET SEAL PADA SISI KACA MAUPUN CAT BODY MOBIL.
______
PETUNJUK : Campurkan 30 ml MEGACOOLS WIPER FLUID ke dalam tangki air penampung untuk setiap 1 liter air bersih.
CHAIN LUBE
Dry Film Anti Friction For Motorcycle Chain
MEGACOOLS CHAIN ??LUBE specially formulated to lubricate all kinds of chains, by using the power layer 'DRY FILM' contained therein. Very effective and durable to protect the chain from corrosion and friction.

MEGACOOLS CHAIN ??LUBE potent protect friction on the chain and sprocket, and not easy to stick dust, so the bike chain cleaner and durable, light pull, and not noisy. Reducing the frequency of chain adjustment. Equipped also with anti-corrosion which protects the chain from corrosion and has the properties strongly attached to the surface of the chain and is water repellent. MEGACOOLS CHAIN ??LUBE can also be used to lubricate a bicycle chain, roller conveyor, chain saws, sprocket, forklift, clutch cable, agricultural tractors etc.

WATCH OUT! USE OF USED OIL DAMAGE CHAIN

Because used oil containing gram-gram of machines that can make a chain and sprocket you are not durable and eroded by the gram.

HOW TO USE: (1). Clean the chain and sprocket of dirt by using FULL MEGACOOLS PENETRATE then drain. (2). Shake well before use MEGACOOLS CHAIN ??LUBE. (3). MEGACOOLS CHAIN ??LUBE Spray evenly to the entire surface of the pin or roller chain.

AVAILABLE IN PACKAGING AND 170 GR 300 GR.
FULL PENETRATE
Hi-Tech Anti Short Circuit and Anti Rust
FULL MEGACOOLS PENETRATE is a very powerful multifunctional lubricants as lubricant rust and protect moisture back. Very safe to use for a variety of media such as vinyl, leather, plastic, stainless steel, plastic rubber. Can be used for home appliances, office, up to manufacturing.

• MOULD RELEASE • CONTACT CLEANER • CHAIN ??CLEANER • DEGREASER •


Cleaners and solvents: light Karat, former glue, stickers, paint, asphalt, tar on the car body, spare parts, mechanical, etc.

Removal of moisture, prevents electrical contact / short-circuit (Spark plugs, wires, dynamo, generator)

Lubricants and anti-rust lightweight and corrosion.

Rapid penetration (according used to open the jammed bolts, lubricate door hinges, keyholes, cable mechanism, brake, clutch pedal, seat springs, shock absorbers, chain bicycles / motorcycles, electronics, propulsion.

IN WATER NOT short circuit occurs, AFTER 5 MINUTES ABSORBING MOLECULES.

HOW TO USE: (1). Shake the can well before using. (2). Spray directly to the desired part for cleaning, spray evenly and assisted with the brush. (3). Repeat application if necessary for maximum results. (4). Can be used when the engine is operating. (5). Spray back every 4-6 weeks for cleaning and routine maintenance.

AVAILABLE IN PACKAGING AND 300 GR 500 GR.
RADIATO COOLANT
The New Generation Of Hi-Tech
MEGACOOLS RADIATOR COOLANT Using Reverse Osmosis Water as well as being in PH 7, it is safe will not clog radiator grille for free from mineral particles. Replace regularly every 30,000 km.

REVERSE OSMOSIS is a water purification process that uses micron-sized membrane filter to filter the content of the minerals the water making it safe for the radiator grille that does not leak and does not rust.

Safe and suitable for all types of radiators, cars, motors, and generators.

Very good for protection from

corrosion, clogging, erosion, so the service life is longer radiator.

Can be directly used as a water radiator.

Not recommended mixing with other brands Radiator Air, for optimal results, use the entire contents of the water radiator Radiator Coolant Megacools.

Contains FTHL (Fast Heat Transfer Liquid) which serves to enhance / accelerate the release of heat.

Does not contain Ethylene Glycol, because they contain toxins or poisons (governed by Regulation No. 18 of 1999 with a waste code D3083).

Very safe for all ferrous materials, aluminum, brass, copper, because it has water pH 7 standardizing its very neutral so free from erosion and water mineral deposit buildup.

With the latest innovations using 'Hydro Lube Oil' so it can lubricate the system Water Pump and Thermostat.




Keep out of reach of children. When exposed to the eyes, rinse with clean water. If swallowed, drink plenty of water and seek medical advice.

AVAILABLE IN PACKAGING 1 LITER AND 5 LITERS.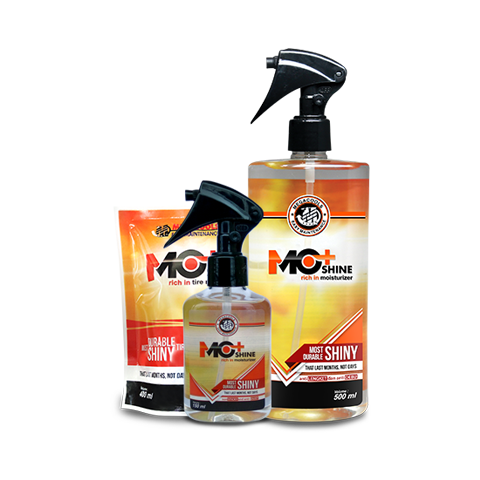 MO+SHINE
MO+ SHINE
RICH IN MOISTURIZER
MEGACOOLS MO+ SHINE Revolutionary findings rich in moisture and beautiful Kilap that can provide total protection from dry, dull, cracked on the Dashboard, Door Trim, Leather Seats, Body Motor, Ban. Resistant to UV rays, not sticky and the dust does not stick.
MEGACOOLS MO+ SHINE rich with moisture content which serves to protect a total of dry, brittle and dull. Very secure applied to the field of plastic, rubber, vinyl, fiber body motor, leather upholstery and car interiors.
Merger MOISTURIZER OIL and strength of substances Water Resistant POLYMERS will give gloss Iebih Iebih perfect and durable, dust does not easily stick and resistant to weather and UV rays. Luster effect MEGACOOLS MO +SHINE directly increase the performance of the appearance of the vehicle.
HOW TO USE :
Clean the first part to be applied.
MEGACOOLS MO + Shine Spray evenly, then smooth with a brush or a soft sponge.
Let stand 5-15 minutes until dry in order to absorb it perfectly so that 100% of its maximum working moisturizer.
Provide routine care MEGACOOLS MO + Shine on your vehicle.
CAUTION: May cause eye irritation. Avoid contact with skin and eyes in a long time. KEEP OUT OF REACH OF CHILDREN
AVAILABLE IN PACKAGING BOTTLE 150 ML AND 500 ML, 400 ML POUCH ALSO STANDING.
BRAKE FLUID
Perfect Protection
MEGACOOLS BRAKE FLUID DOT and ISO standard wear that is very safe to use in vehicles. Will not damage rubber, does not cause sediment, 205o boiling point celius and homogeneous with water. Replace regularly every 30,000 km so that security is guaranteed. No. SNI 06-2769-1992
MEGACOOLS BRAKE FLUID specially formulated for security in the brake system of the present. Very good for the brake system ABS, Disc and Drum.
COMPOSITION:
Consists of a mixture of Glycol Ethers, polyalkylene glycol and anti-rust.
SPECIAL PROPERTIES:
Minimal WET Boiling Point 284 F (205 Celsius) provide maximum security to prevent evaporation.
No damage rubber, does not cause rust.
Meet the specifications of SAE JI 703, JIS K2233.FMVSS 116 DOT-3.
ATTENTION:
Brake fluid can cause inflammation, avoid contact with skin and eyes. If contact occurs, rinse thoroughly with water and contact your doctor. KEEP OUT OF REACH OF CHILDREN !!
AVAILABLE IN PACKAGING 50 ML, 300 ML, 1000 ML.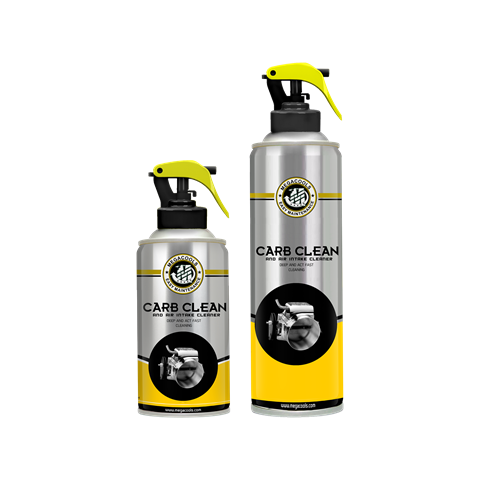 CARB CLEANER
Air Intake Cleaner
MEGACOOLS CARB CLEAN and Air Intake Cleaner is formulated latest breakthroughs and the power of special liquid to clean the carburetor of all dirt and sediment, quickly and simply without having to disassemble the carburetor.

High quality cleaning can destroy the carbon varnish, crust that accumulates in the combustion chamber and fuel systems.

Improving the effectiveness of cleaning the exhaust manifold.

Increase acceleration thus reducing the symptoms of knocking.

Tourque fix hp and so the use of more fuel efficient.



HOW TO USE: (1). Shake well before use. (2). Turn the engine in a stationary state (idling) for five minutes to warm up. (3). Turn off the engine, remove and clean the air filter. (4). Thorttle spray into the intake manifold body and then turn on the machine, pull the cord gas / gas lever in the carburetor to the engine roar. (5). Turn off the engine and allow 1-2 minutes for the working fluid. (6). Turn the machine back with a round full gas until a puff of white smoke from the exhaust, which means the carbon deposit has cleared. (7). May be repeated 1-2 times until it feels lighter gas.

CAUTION: (1) Avoid puncture or burn cans or store at temperatures over 50 ° C. (2). Do not put cans in a place exposed to direct sunlight or near a heat source or flame. (3). Use the product in an open space or a place that has adequate ventilation.

AVAILABLE IN PACKAGING AND 300 GR 500 GR.
NEWS
Penuhi selalu kebutuhan perawatan kendaraan ada dengan aneka produk dari MEGACOOLS. Sayangi kendaraa

see more >

test